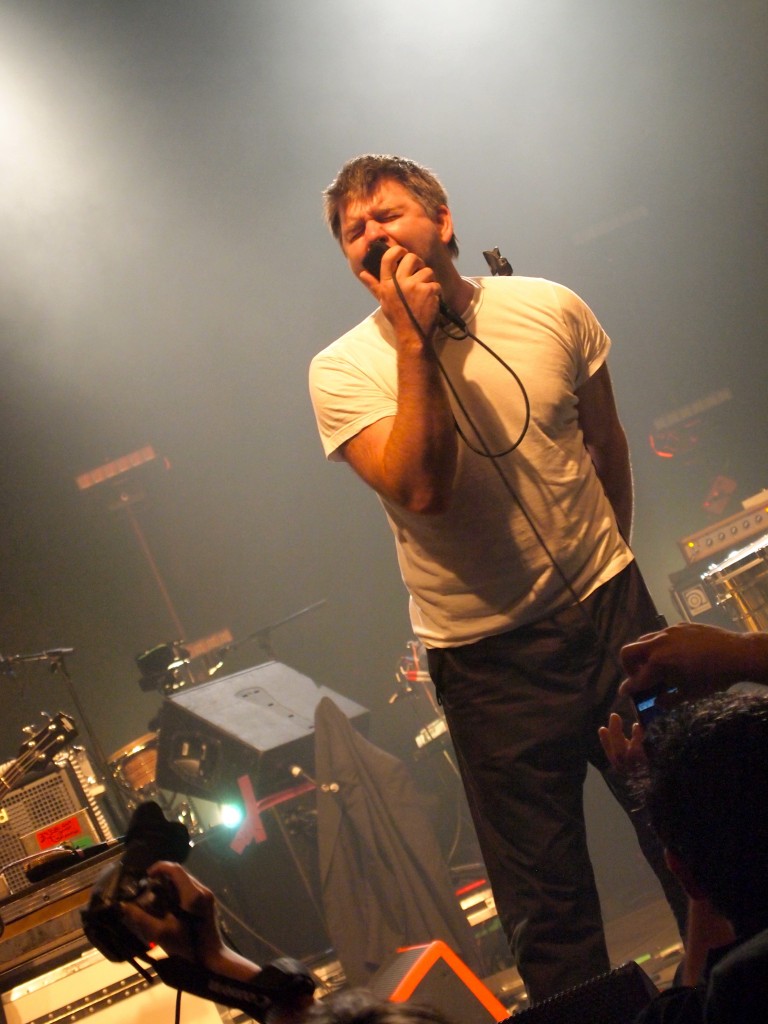 LCD Soundsystem brought its spinning disco ball and dance/punk/pop style of music to Dallas/Fort Worth.  Having seen them only at outdoor festivals I wondered if The Palladium Ballroom could contain all that energy. Thankfully it couldn't and the people experienced a musical explosion.
LCD Soundsystem started nice and easy, but as always kicked it into full motion with "Us v Them."  That drove the crowd energy higher with chants of "It's us! V them! Over and over again!"  I began to feel like I was at a labor union rally ready to strike, albeit with a kickin' soundtrack.  The group kept the shindig going by hitting songs from all three of their albums.  I'm not even a hardcore fan of LCD Soundsystem and they played everything I wanted to hear.  Odds are even the devout left dance happy, though there were cries for "Dance Yourself Clean."
As well they should with the night's tempo moved up and down at all the right spots throughout the setlist.  "Drunk Girls" off the new album had the new fans dancing, while "Daft Punk Is Playing At My House" pleased first album initiates.  "All My Friends" never ceases to disappoint, and even performed live my mind plays memories for me like a movie montage.  "I Can Change" had me stop my feet while I took in front man James Murphy singing out "I can change, I can change, I can change – if it helps you fall in love."  It reminded me that LCD Soundsystem's albums carry a theme of reflection on where you've been, how you got here, and what's it like having to consider slowing down.
Why did it seem that I felt the lyrics and kicked to the beat harder than before?  I think it lied in the venue.  While LCD Soundsystem does well at the outdoor festivals, the shorter sets and open space might limit them. It's here in an enclosed space with a longer set where they excel.  The music and energy is trapped, feeding on itself, building pressure.  Yes – a pressure cooker of music leaving moist, tender and delicious musical morsels.
UPCOMING TOUR DATES
| | | |
| --- | --- | --- |
| | lcd soundsystem | la coruna, ES |
| | lcd soundsystem | barcelona, ES |
| | lcd soundsystem | Neuhausen ob Eck, DE |
| | lcd soundsystem | Scheessel, DE |
| | lcd soundsystem | Zagreb, CT |
| | lcd soundsystem | ferrara, IT |
| | lcd soundsystem | st gallen, CH |
| | lcd soundsystem | roskilde, DK |
| | Hyde Park | Paddington, Greater Lo, gb |
| | lcd soundsystem | london, UK |
| | lcd soundsystem | novi sad, RS |
| | lcd soundsystem | chicago, Illinois, US |
| | pentaport rock festival | incheon, KOREA, D.P.R.O. |
| | lcd soundsystem | sydney, AU |
| | lcd soundsystem | melbourne, AU |
| | lcd soundsystem | Oslo, NO |
| | copenhagen | KONCERTHUSET, copenhagen, DENMARK |
| | lcd soundsystem | isle of wight, UK |
| | Austin City Limits festival | Austin, TX |