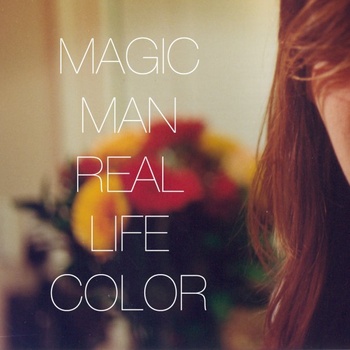 As the story goes Sam Lee and Alex Caplow compiled some songs whilst gallivanting around France at a chateau, a farm, a circus festival, and a beach cottage.  Returning to the states they recorded and edited their songs.  Going by the name Magic Man they've since released Real Life Color, an album that would make all those French memories proud.
I suppose we could call this Real Life Color a nice bit of electropop, but in writing that it seems to marginalize the album somehow.  The synths are present. The driving bass beats show up too, and lyrics that speak of love and life.  It's something that comes off as simple (which is never easy), and will have you quickly hopping about. The greater feat that Magic Man has pulled off is that this is a complete and comprehensive album. Like with Miike Snow, The Postal Service, and even Washed Out's album – you can just hit play and forget where you're at for a while. There's notable singles for certain (Monster and Polygons), sure.  But you'll go through the ten tracks having hardly realized it.
That's not to say the songs all sound the same. The experience is more akin to being on a road trip, not aware you've passed through several towns. Only to realize you've arrived at your destination with an answer to a question you didn't know you had asked.
Check out Magic Man at their site for more information after listening to the songs down below. They have them available for download where you can pay as much as you like. Yes – even free.