The clean and industrial design of the new TMA-1 by Aiaiai is just so pretty.  They're designed with DJs in mind, and approved by a list of testers that includes Flying Lotus, Hot Chip, MSTRKRFT, and James Murphy of LCD Soundsystem.  But you don't have to be a DJ to enjoy the aural bliss these things deliver.
I got to spend an hour with these today and was quite please with the TMA-1 on many levels.  They have a beautiful matte black finish with just a touch of tacky grip.  What struck me even more so was how light and sturdy they actually are.  I had worries that they'd be too flimsy and toy-like, but they have quite a bit of give, and seem like they can hold up to some heavy wear and tear.  It's obvious that this is where all the heavy hitting DJ testers lent their expertise regarding the rigors of traveling around the world with gear that needs to hold up.

All this talk about form, but what about function?  After plugging in and turning on the tunes I was immediately taken elsewhere to a happy place.  This was the kind of sound I was expecting from prior headphones.  The high and mids sang clear, while the bass was distinct.  So distinct that it seemed like I could actually feel the bass like I would at a live concert.  I'm not an audiophile, and I'm sure many aren't.  Whether you listen to mp3s at 320kbps, lossless flac, or have no idea what any of that means these things will help you see sound in full color.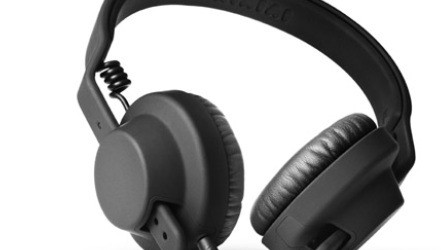 The TMA-1 comes with: a carrying pouch, 2 sets of earpads (1 leather, 1 extra soft), a 6.3 mm stereo plug converter, and a 1.7 meter cable.  I didn't get to try out the extra soft earpads, but the leather ones were super sweet.  The world passed by and I couldn't hear a lick of it.  They'd be great at drowning out the crowd whether you're spinning at a club, or trying to avoid everyone in your cubicle farm.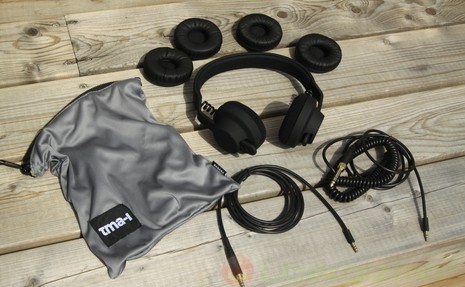 For some more insight into the design, Cool Hunting did a nice short with the designers.  And if you've decided like me that you need to have these, they run 200 bones and can pick them up at The Ghostly Store.  That might sound steep, but don't your ears deserve the best?